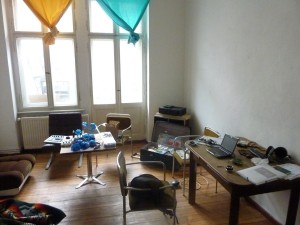 I finally arrived in Berlin, and yes it its f*ing cold at the moment. I brought all my lab stuff, material and microorganisms with me and already installed my lab at my temporary appartment, haunz' place, grünbergerstr. 68. Looking forward to built some things these days and also happyy to join the workshop next week on spectroscopy during ctm10, organized by NK.
After installing my gear i already started experimenting more on the laser microscope projector. a first prototype setup was taped to a chair and table... got some nice result backprojecting onto the bottom of a petridish. even found some blepharisma japonicum swimming around on the lens. the setup is as simple as it gets. a strong 50mW green laser, bought in HK, a lens from a cheap webcam, upside down on the laser, a third hand to hold the laser upright, some milky plastic foil taped on the back of a TCPS petridish. the drop containing the microorganisms i directly put onto the lens, which was cover by a flat glass.
laser petridish microscopy from dusjagr on Vimeo.