4. April 2012 / Neue Zürcher Zeitung - Forschung und Technik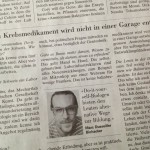 In the interview for NZZ, I give some info about the local DIYbio movement in switzerland and the hackteria network, some critical reflections on the promises the DIYbio movement paralleling the agro/chem industries, the potential of garage biotech for developing countries and generally the role of DIY science in educating and empowering a democratic society.
The interview was part of a larger article about the DIYbio scene in LA. An article in today's issue of NZZ (4. April 2012 Neue Zürcher Zeitung) gives a nice overview of the amateur biologist scene in LA. The journalist Lena Stallmach visited the people from LA biohackers in their own space/lab (which is currently in boxes, prepared for the move to a bigger space) and describes their working environment, dreams of inventions, ongoing projects and workshops in collaboration with the FBI.
A .pdf to download can be found on the post on the hackteria.org website
28. Okt 2010 / Digitale Kultur und Medienkunst aus der Schweiz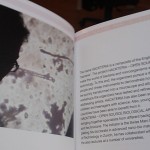 Video produced by Migros Kulturprozent and Christoph Merian Verlag for the DVD publication "Digital Culture and Media Art from Switzerland - Edition 2010". You can find the full publication on digital brainstorming.
20. Nov 2009, poptronics / Piskel09, Bergen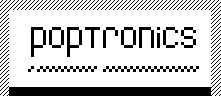 Our hackteria workshop "Bioelectronix for Artists" at Piksel09 has been mentioned on poptronics and other online media covering the Piksel09 festival.
In addition the local Bergen press also mentioned our workshop. They seemed to have moral and ethical problems with our approach to bio-hacking and experimentation with microorganisms and banned any other press coverage of the Piksel09 festival. Sadly they were not approaching us in person to learn more about our work, talk to us or see what exactly we were doing. I suppose they would have seen that both Andy Gracie and me have a deep adoration and love for all forms of life and nature, in addition to our awerness of the legal, moral and ethical issues of our process of inquiry. And we also try, as one of our key take-on messages in the workshop, to inspire our participants to be aware of the beauty and value of nature even in places and dimensions which are nor accessible by the unaided human eye. And generally, we want to invite all artists working in the BioArt field, that critical and ethical discussions are essential in the process of making, displaying and teaching BioArt.
9. Nov 2009, Morning Brew, Radio 3, RTHK, Hong Kong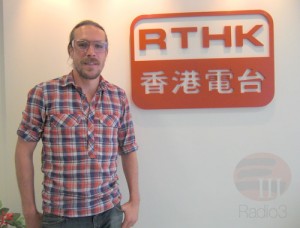 Paralleling the workshop "Bioelectronix for artists" at Videotage, Hong Kong, I was invited for a radio interview for Morning Brew with Phil Whelan at Radio 3, RTHK.
listen to the stream on the RTHK website.
Dr. Marc Dusseiller talks about how webcams to be used as microscopes, make photo art and observe the behaviour and motion of micro-organisms.
September 2009, MatBlatt 03/09, ETH Zurich, Interview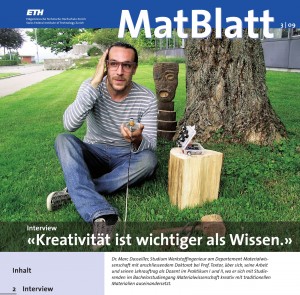 I was happy to be invited by the Department of Materials, ETH Zürich, for an interview in the departments quarterly magazine MatBlatt.
In the interview with Claudia Sigel we went through my practical course in traditional sculpting materials for the young students in material science and I also presented my current transdisciplinary activities in education at the art/science interface. The MatBlatt is sent to all Students and Alumni of the department.
download the full article here
MatBlatt 3/09 (LowRes.pdf, 1.3 MB; HighRes.pdf, 42.2 MB)
Interview: "Kreativität ist wichtiger als Wissen."; Departement: Masterfeier 2009; MatAlumni: Editorial, ABB: "Auf die Verpackung kommt es an; MRC: What's the matter?; Arbeitswelt: Industriepraktikum am Paul Scherrer Institut; Studierende: Bergfest 09; Materials Soccer Cup 09; Zu guter Letzt, In eigener Sache, Leute, Neue Mitarbeitende im Departements- und Studiensekretariat, Terminkalende
28. August 2009, RSI Rete Uno, SGMK HomeMade Woche, Vico Morcote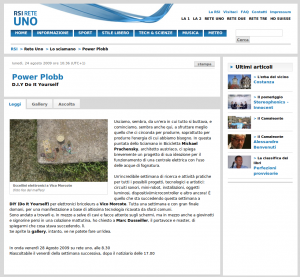 During the HomeMade Week organized by SGMK in summer 2009 in Vico Morcote, we were asked by the Swiss Italian radio station Rete Uno to give them an overview of our activites. With help and translation from jordi, our partner in Ticino, I was giving an interview for the weekly show "Lo sciamano in bicicletta", both describing the source of the weird sounds and chirps heard in the small village of Vico-Morcote and also promoting our activites of the Swiss Mechatronic Art Society, SGMK.
The interview can be downlaoded here [reteuno_sciamanoinbicicletta_28_08_09 .mp3 - 4.6Mb ]
5. August 2009, Suara Merdeka, Performance during cellsbutton#03, Yogyakarta
At the cellsSONIC, part of the cellsbutton#03 Yogyakarta media art festival, we have played a spontanous experimental jam session. Togar (Yogyakarta), playing on various solenoids, Kanno So (Japan) with his Jamming Gear, Alex Schaub (Netherlands/Switzerland) using a variety of bamboo flutes and other instuments and me, dusjagr (Switzerland) first time vjing using the hackteria pd_microscope.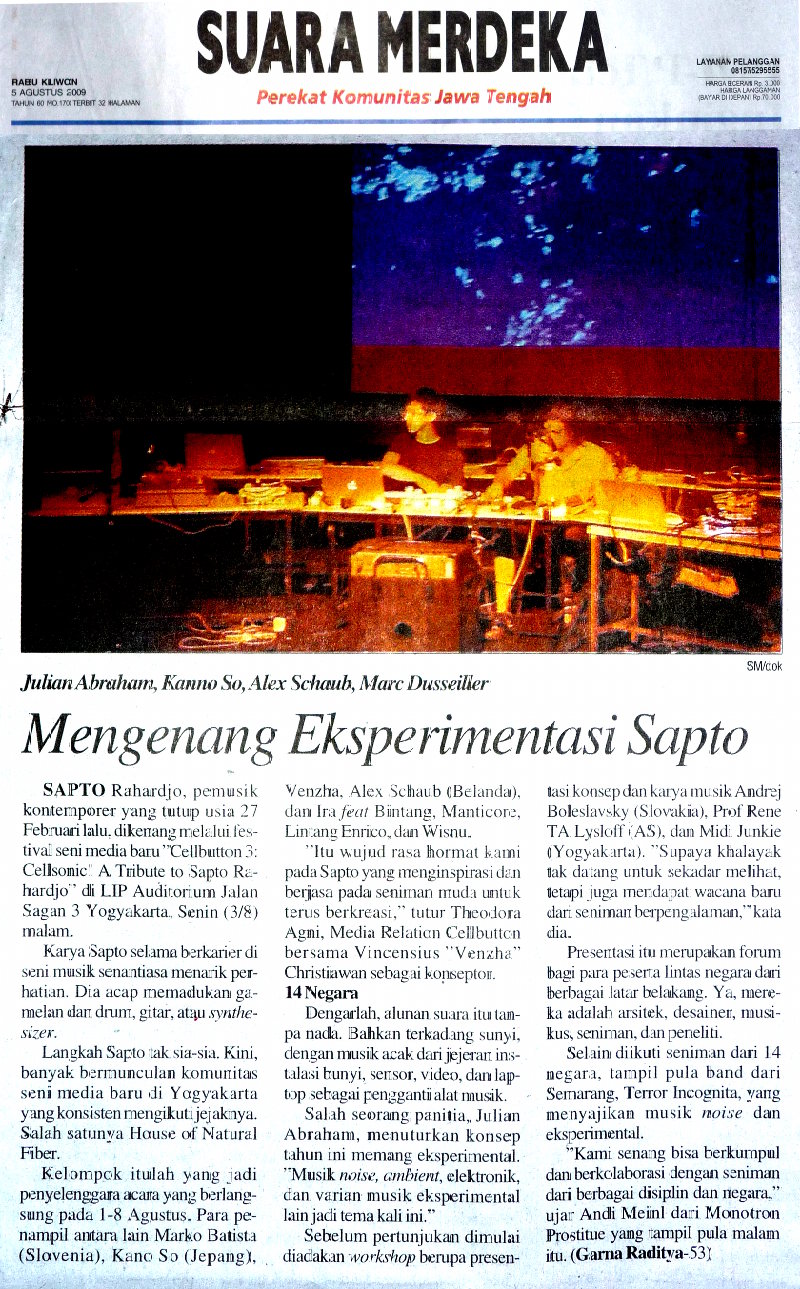 5. Dezember 2008, Blick - Kultur, 'diy* - Festival für Kunst und Technologie'
Die Anstrengungen haben sich gelohnt. In der Pressekampagne fürs diy* festival 2008 hatten wir verschiedene Artikel in Schweizer Zeitungen. zB im Blick - Kultur, siehe unten, Zuertipp und Tagesanzeiger.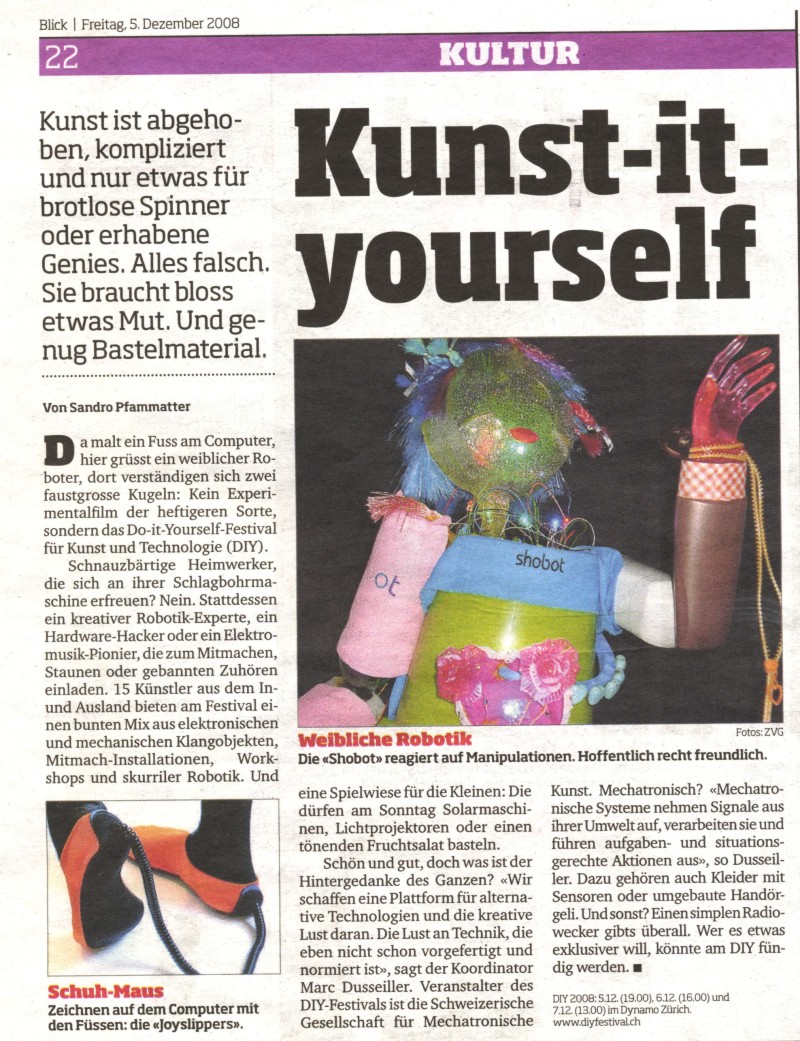 7. März 2008, Tagesanzeiger - Wissen, 'The Electric Retina'
'The Electric Retina' is presented at at parcours des wissens, in the pavillon on Sechseläutenplatz, an event for the 175 Years celebration of the University of Zürich, Saturday 8.3.2008 until Sunday 16.3.2008. I was assisting Prof. Dr. Jill Scott on the sculpture for the last three months, installing the sensors for interactiveness and help with the general construction and setup. Tagesanzeiger Wissen, has been writing about it.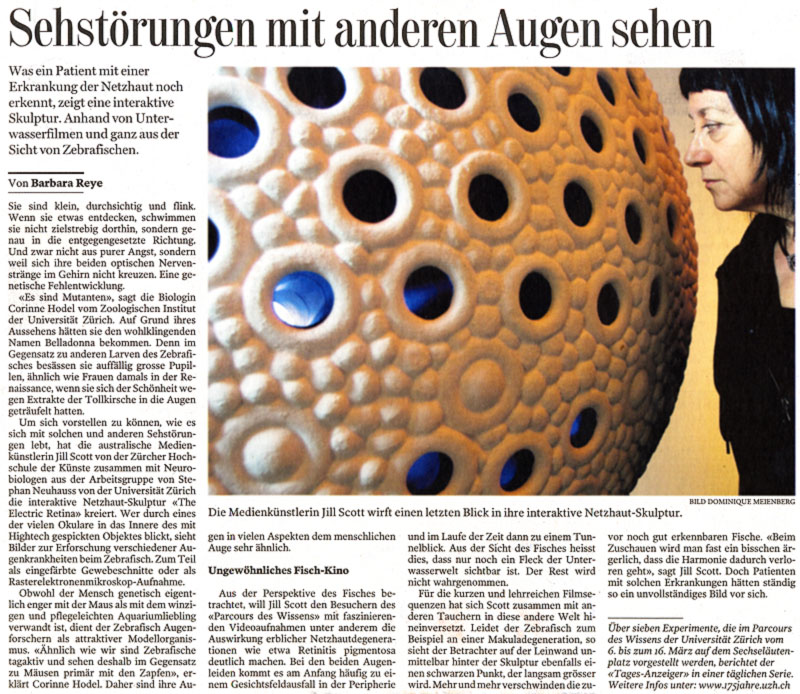 Konzeption and Konstruktion der Skulptur: Prof Dr. Jill Scott
Mit Unterstützung von: Marille Hahne (Filmschnitt), Andreas Schiffler/Marc Dusseiller (Programmierung und Sensoring) und Simone Lüling/Beat Schlaepfer/Christian Tanner (Stahlkonstruktion und Oberfläche). Forschende im Labor: Prof. Dr. Stephan Neuhauss: Corinne Hodel, Dr. Oliver Biehlmaier, Melody Huang, Colette Maurer, Markus Tschopp
21. Februar 2008, Tagesanzeiger - Züritipp Clubs, Dock18 sagt Auf Wiedersehen
Das Dock18 geht in Klausur, vorübergehender Abschied und grosse Abschlussveranstaltung 21./22./33. Februar 2008, Bericht im Züritipp.....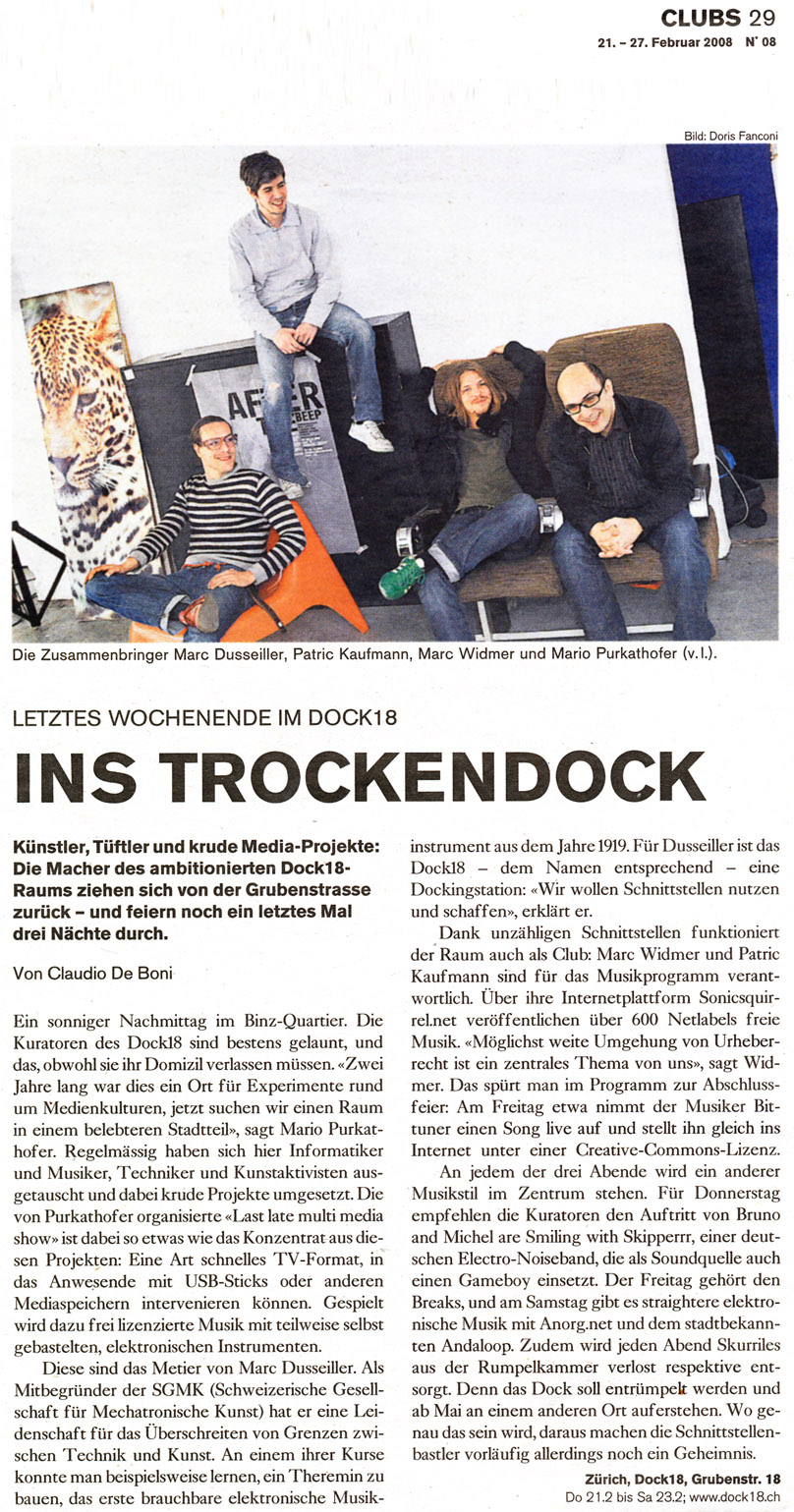 6. Dezember 2007, Schaffhauser Nachrichten - Kopf der Woche, diy* festival
Die Mitorganisation des diy* festivals hat mir sogar nen "Kopf der Woche" in der SN gegeben. Den Artikel kann man noch im Archiv der Schaffhauser Nachrichten finden.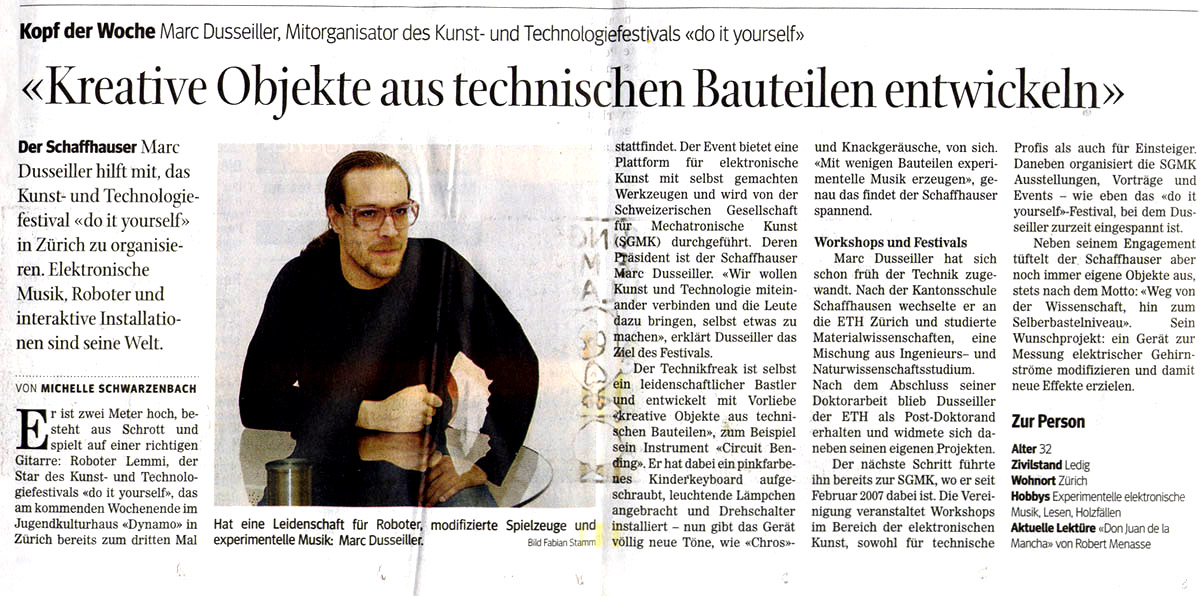 Kopf der Woche in Schaffhauser Nachrichten, 6. Dezember 2007, Seite 15
20. Dezember 2004, Schaffhauser Nachrichten - Die Andere Seite, Weihnachtsschwimmen
Am Weihnachtsschwimmen 2004 in der Rhybadi kamen wir, Simon, Pazzo und ich, als Hartgesottene auch in der Schaffhauser Nachrichten.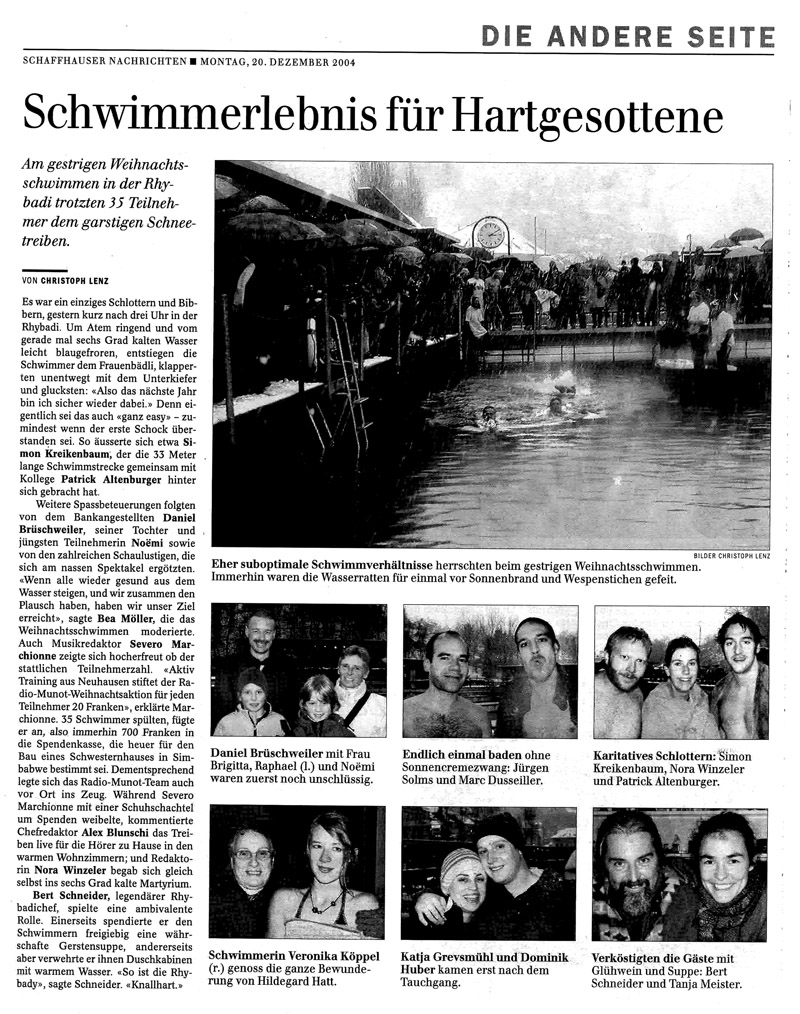 Die Andere Seite in Schaffhauser Nachrichten, 20. Dezember 2004