dusjagr labs was founded by Marc Dusseiller in April 2007.
The page gives you an overview of all my activities, which consists of a transdisciplinary approach on Science, Art and Education. It provides you with both professional news and some private activities.
contact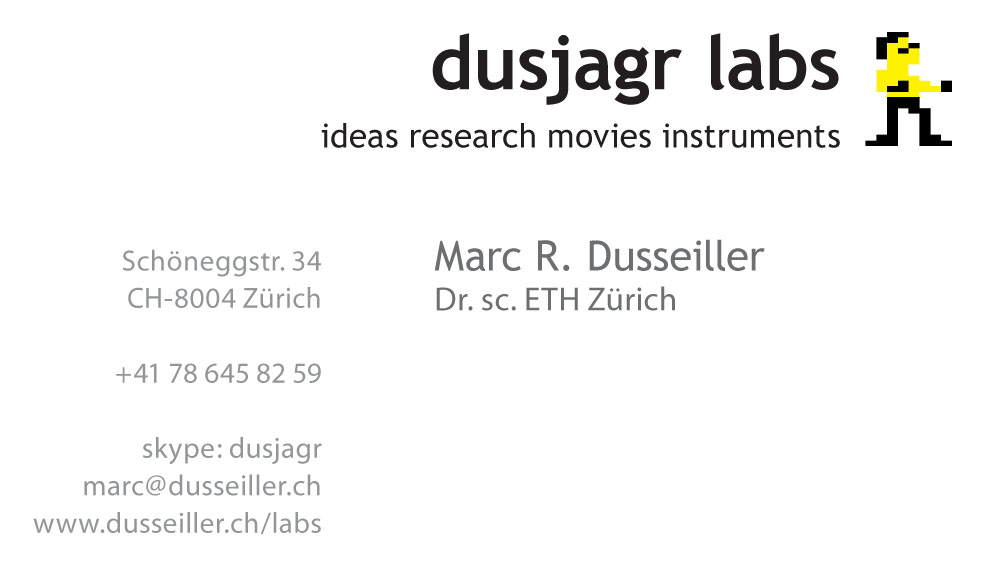 Short CV
Dr. Marc R. Dusseiller is a transdisciplinary scholar, lecturer for micro- and nanotechnology, cultural facilitator and artist. He works in an integral way to combine science, art and education. He performs DIY (do-it-yourself) workshops in lo-fi electronics, hardware hacking, microscopy, music and robotics. He was co-organizing Dock18, Room for Mediacultures, diy* festival (Zürich, Switzerland), KIBLIX 2011 (Maribor, Slovenia), workshops for artists, schools and children as the former president (2008-12) of the Swiss Mechatronic Art Society, SGMK. In collaboration with Kapelica Gallery, he has started the BioTehna Lab in Ljubljana (2012 - 2013), an open platform for interdisciplinary and artistic research on life sciences. Currently, he is developing means to perform bio- and nanotechnology research and dissemination (Hackteria | Open Source Biological Art) in a DIY fashion in kitchens, ateliers and in developing countries.
download .pdf of the Curriculum Vitae
Cultural Portfolio
new cultural portfolio booklet | english .pdf (updated recently)
cultural portfolio | german .pdf (updated 2010)
cultural portfolio | english .pdf (updated 2009)
Short Biography
'09 - now Co-founder of Hackteria | Open Source Biological Art, Organizer of HackteriaLab 2010 - 2013, International
'12 - now Co-Initiator and scientific program director of BioTehna Lab, with Kapelica Gallery, Ljubljana, Slovenia
'08 - '12 Lecturer for Micro- and Nanosystems for Life Sciences at FHNW, University of Applied Sciences Northwestern Switzerland, School for Life Sciences
08 - now Lecturer for traditional materials in sculpting and fine arts at ETH Zürich, Switzerland
'07 - now Organization of various workshops for the Swiss Mechatronic Art Society (SGMK), Dock18, Space for Mediacultures, Switzerland
'06 Doctor of Sciences "Micro- and Nanoengineering the Environment of Cells in Culture", ETH Zürich, Switzerland
'01 Diploma in Material Science and Engineering, ETH Zürich, Switzerland
Selected Work
2013
'13 Hackteria BioHacking Lab at Share Cyberpunk Academy, REPUBLIKA Festival, Rijeka, Croatia
'13 Co-organization of HackteriaLab 2013 - Bangalore, India
2012
'12 Workshop and presentation at 1st Annual Hands-On Workshop in POC Diagnostics, Nairobi, Kenya
'12 Invited speaker at SHARE conference, Beograd, Serbia
'12 Residency at HONF, Yogyakarta, Indonesia
2011
'11 Residency at the Center for Everything and Hackteria Distillery workshop at Jaaga, Bangalore, India
'11 Workshop and performance with ISRO and anyma for EXPERIMENTA! 2011, Bangalore, India
'11 Co-curator of International Festival KIBLIX 2011 "Share is in the Air", Maribor, Slovenia
'11 Kids workshops at the First UK DIYbio Summit, MadLab, Manchester, UK
'11 Co-organization of workshops "Hackteria & SGMK BioCyberKidzz", CYW, Ars Electronica 2011, Linz, Austria
'11 Co-organization of HackteriaLab 2011 | Romainmôtier/Zürich, Switzerland
'11 Co-organization and OpenLabs for the poolloop Festival, Zurich, Switzerland
'11 Research based Exhibition "NanoŠmano – Šmall Matter", Kapelica Gallery, Ljubljana, Slovenia
'11 Hackteria workshops at Pixelache 2011, (Finland), MechartLab (Switzerland) and I'MM hackerspace (Croatia)
2010
'10 Workshop with Dr. Špela Petrič at HAIP festival, Ljubljana, Slovenia
'10 Research based Exhibition with Stefan Doepner, "NanoŠmano", Kapelica Gallery, Ljubljana, Slovenia
'10 Hackteria BioElectronix workshop with Andy Gracie and SGMK diy makeaway at ISEA2010, Dortmund, Germany
'10 Workshop for Teachers DIY Microscopes, Technorama, Winterthur, Switzerland
'10 DIY and Bio-Art Workshops during cellsbutton#04">cellsbutton#04, HONF and Gadjah Mada University, Yogyakarta, Indonesia
'10 Workshop SlowGames, in collaboration with René Bauer, Bachelor in Game Design, ZHdK, Switzerland
'10 Organisation of the first Hackteria Lab, Dock18, Zürich, Switzerland
'10 Playaround Workshop in collaboration with dimension+ and NTUA, Taipei, Taiwan
2009
'09 Bio-Art workshops at Piksel09, Bergen, Norway, videotage, Hong Kong, and others
'09 Playaround Workshop in collaboration with dimension+ and NTUA, Taipei, Taiwan
'09 DIY and Bio-Art Workshops during cellsbutton#03, HONF and Gadjah Mada University, Yogyakarta, Indonesia
'09 Bio-Art Workshops at CEMA, Srishti School for Art, Design and Technology, Bangalore, India.
'09 Co-organization and workshops for the poolloop Festival, Zurich, Switzerland
'09 Foundation of Hackteria | Open Source Biological Art with Andy Gracie and Yashas Shetty
'09 Collaboration on the installation Garage Astrobiology @ Interactivos?09, Medialab Prado, Madrid, Spain
2008
'08 Workshop with Tobias Hoffmann at playaround organized by microplayground, in collaboration with NCTU and ITRI, Taiwan
'08 Cooperation on interactive media sculpture "The Electric Retina" with Prof. Jill Scott, Zürich, Switzerland
'08 Coordinator of diy* festival, Zurich, Switzerland
2007
'07 Coordinator of diy* festival, Zurich, Switzerland
'07 Organization and development of various workshops for the Swiss Mechatronic Art Society (SGMK)
Selected Talks and Presentations
'12 Presentation "On BioHacking and Education in the Life Sciences", UGM, Yogyakarta, Indonesia
'11 Presentation on "Experiences in Outreach and Education at the NanoBioInterface", iBio, NCBS, Bangalore, India.
'11 Keynote presentation about Hackteria, Kids workshops and BioArt at the First UK DIYbio Summit, MadLab, Manchester, UK
'11 Talk "NanoÅ mano vs. wetPONG" at SloNano2011 conference, Ljubljana, Slovenia
'10 Opening Talk on "Transdisciplinary Approaches on Education at the NanoBioInterface" at HAIP festival, Ljubljana, Slovenia
'10 Keynote Talk on Transdisciplinary Education at SDN Conference 2010, Basel Switzerland
'10 Presentation on "Hackability of Abundant Consumer Electronics for Bio-Sensing and Lab-Automation" at the Indonesian Bricolabs meeting, Yogyakarta, Indonesia
Awards
'11 Award "Förderbeitrag durch KulturRaum Schaffhausen 2011 for HackteriaLab2011, KIBLIX2011 and more
'09 Award "Werkbeitrag der Migros Kulturprozent" for Hackteria, Open Source Biological Art
'09 Award for "Hackteria, Open Source Biological Art" by Bundesamt für Kultur, Projekt Sitemapping
'08 Award for the best poster presentation at NanoTech 2008, 12th Annual European Conference On Micro & Nanoscale Technologies for the Bioscience
'08 2nd Prize for "Hase Znacht" at agent-provocteur's contest in january 2008, a 30 sec stop-motion movie
'07 1st Prize for "Duell", a 10 sec pixelanimation @ www.5-10-20.ch Shortest Silent Movie Competion
'05 Travel Award from the American Society of Cell Biology at the 2005 ASCB Summer Meeting on Engineering Cell Biology - The Cell in Context, Seattle, USA
'03 "Lab on a Chip Award" for best poster presentation at NanoTech 2003, 7th Annual European Conference On Micro & Nanoscale Technologies for the Bioscience