Presentation/Discussion: DIWO, Citizen Science and Hacktivism in Art and Design / Science and Technology
Mon 30 Jan, 11h, ISI, Yogyakarta
With Dr. Marc Dusseiller, Dr. Denisa Kera, HONF
Lecture series: Hackteria, BioHacking and FoodHacking
Fri 27 Jan, 14h, UKDW, Yogyakarta
With Dr. Marc Dusseiller, Dr. Denisa Kera, Tommy / HONF
Thu 26 Jan 10h, Universitas Sanata Dharma Yogyakarta, Kampus Iii
With Dr. Marc Dusseiller, Dr. Denisa Kera, Ira / HONF
Prelude to the "Mobile KitchenLab Workshop - Hacking Angkringan"
Discussion : Understanding Art, Science and Technology
Wed 18 Jan, 18pm, Umahseni, Jakarta
With Venzha (HONF), Dr. Marc Dusseiller, Dr. Denisa Kera and Pak Enin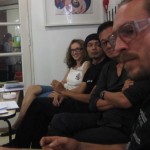 "On BioHacking and Education in the Life Sciences"
Wed 11 Jan, 13pm | Gadjah Mada University (UGM), Fakultas Bioteknologi
Download the .pdf slides here: dusjagr_UGM_bioteknologi_lowres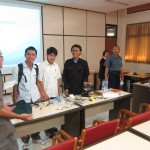 During the two hours I wanted to show some examples, on how such interdisciplinary activies in the sphere of biohackers, artists and geeks has a great and inspiring influence on developing new ways to teach and communicate science. During the 5 years of working in the framework of SGMK and the hackteria project, also in different cultural background from Europe through India, Taiwan and Indonesia, i could learn from all the collaborations. Being always open to learn new things is key of being a good teacher! Examples have been shown on how the HackteriaLab2011 has influenced the workshop for children at Ars Electronica "BioCyberKidzz" and generally the DIY and hacker's approach on my teaching to the students in life science technology at FHNW, in the "wetPONG" lab courses.