Μ-wetPONG
From dusjagr's Grundlagen Mikrosysteme - FHNW, HLS
Genereller Beschreib
Project based learning is an approach for classroom activity that emphasizes learning activities that are long-term, interdisciplinary and student-centered. It can best be defined as instruction relating questions and technology relative to the students everyday lives to classroom projects. Students form their own investigation of their own group which allows students to develop valuable research skills. The students engage in design, problem solving, decision making, and investigative activities. It allows students to work in groups or by themselves and allows them to come up with ideas and realistic solutions or presentations.
Keywords
Non-Newtonian Fluids, Cornstarch, Microfluidics, DIY Microfluidics, Persistaltic Pump, Pressure Driven Flow, Flow Profiles, Fluorescent Microbeads, PDMS, Electro-wetting, Paper Microfluidics, Homemade Microfluidics, Bonding/Sealing of PDMS microdevices
Info
Versuchsplanung
Experimentelles Arbeiten
Documentation
Einführung DIY microfluidics and other experiments
Photo impressions
Projekte Fluidik FS12
Projekt 1 | Worm Chips III - The Revenge of the Cyclops
Basierend auf den Arbeiten früherer Studierender, Μ-wetPONG#Projekt_4_.7C_Worm_Chips und Μ-wetPONG#Projekt_2_.7C_Worm_Chips_II
Tipp 1: Start Big, then go small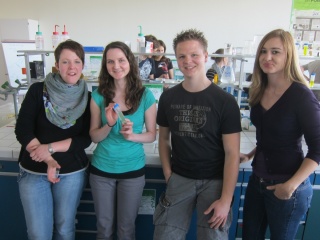 Björn Glienke, Angela Schade, Michaela Werfeli, Susanne Herzig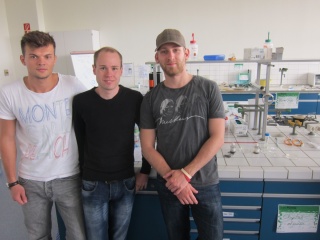 Tobias Horat, Alex Kabisch, Djordje Kocic, Robert Wildt
Projekt 2 | Blötterli, Chügeli und Böppeli
Tipp 1: Start Big, then go small

Spherification: wie man kleine Chügeli macht... My first spherification
http://www.sciencedirect.com/science/article/pii/S0142961204007793
Vesicles (not for this year, but as inspiration)

paper on simple giant vesicle making: http://pubs.rsc.org/en/content/articlelanding/2011/sm/c1sm05239j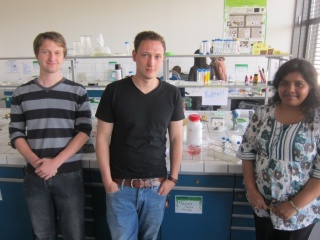 Raphael Hain, Inthumathy Rameshkanna, Andy Görlich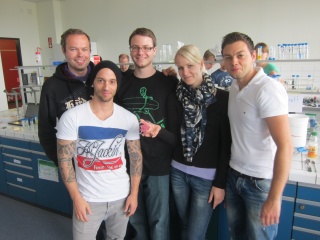 Björn Fünfschilling, Denis Thoma, Regina Moschko, Benjamin Zaugg, Nello Moscatiello
P2_FS12_TZ_Gruppe_C: Thomas Hiltbrand, Laura Tschirren, Sascha Gasser, Linda Minder
Creation of micro spheres using water and oil flows.
Projekt 3 | Lab-Chip Laser Fabbing
Einige Info zum DIY Lasercutter sind auf hackteria.org zu finden und auf dem wiki zum DIY BioPrinter.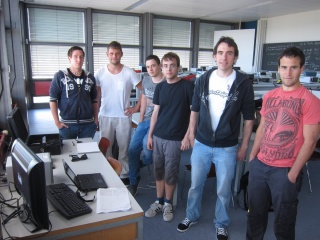 Stefan Meier, Patrick Rohner, Sandro Schultz,Kistler Benjamin, Phillip Kaufmann, Andreas Käser
Gruppe A soll sich mit der Software auseinandersetzen
Updates: endlich ein funktionierenden shuttle barebone angeschlossen. ubuntu 12.04 installiert (passwort: wetPONG) und funktioniert flüssig. zusätzlich inkscape, open-jve und replicatorG installiert. einzig der seriel port zum arduino wird noch nicht vollständig erkannt.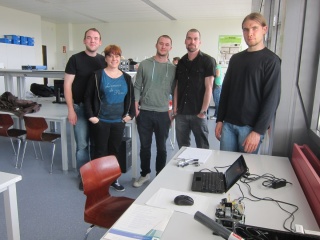 Dominik Rabus,Magdalena Jozic, Stephan Matt, Marc Siegrist, Mario Muff
Gruppe B soll sich mit der Hardware auseinandersetzen und den Möglichkeiten Masters und Abgüsse herzustellen
Projekt 4 | Particle Sorting II
Basierend auf den Arbeiten früherer Studierender, Μ-wetPONG#Projekt_5_.7C_Aschenbr.C3.B6del_Fluidics_.2F_Particle_Sorting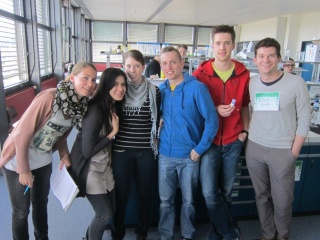 Angela Ros, Angela Villiger, Karin Blaser, Stefan Weiss, Mario Wenk, Jan Vogel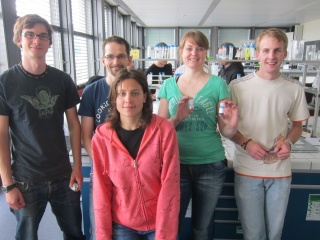 Pascal Behm, Martina Moser, Adrian Rohner, Milena Janki, Patrick Camenzindan Matt, Marc Siegrist, Mario Muff
Gruppe B soll sich mit der Hardware auseinandersetzen und den Möglichkeiten Masters und Abgüsse herzustellen
P4_FS12_TZ_Gruppe_C: Sandra Fiedel, Kevin Gatschet, Beat Müller, Gaston Zemp
Interesting Links
wetPONG
wetONG.net Platform for Hybrid-Games, Micro- and Nanotechnology and Life Sciences
wet PONG introduces a creativity approach to project based learning (PBL) in microfluidics using a game concept, inspired by computer games, and the use of open-source software and hardware.
How to improve bonding of PDMS devices
http://en.wikipedia.org/wiki/Corona_treatment
General Lab Courses on Micro/Nano
The University of Wisconsin-Madison Materials Research Science and Engineering Center (UW MRSEC) Interdisciplinary Education Group uses examples of nanotechnology and advanced materials to explore science and engineering concepts at the college level, and brings the "wow" and potential of nanotechnology and advanced materials to the public.
We work to enhance public appreciation of science and engineering through a central theme of "Exploring the Nanoworld," using web dissemination to novice learners, presentations in general public venues, and contributions to popular publications and media.
Stanford microfluidics foundry website on multilayer soft lithography microfludics design, and connectors and tubings.
JOVE, the journal of visualized experimentation. Type your keyword!
The Open Wetware site which has many public protocols
Open Source Nanotechnology Open Source Nano is an invitation to participate in the innovations of nanotechnology right from the start. It is an experiment in making high-tech laboratory research something that can be improved and innovated outside the laboratory, by making it "vernacular"–putting it in the language that people speak, and the tools and materials they have at hand.
Microfluidics
Welcome to Chips & Tips - a unique and regularly updated forum for scientists in the miniaturisation field. Chips & Tips aims to provide a place where ideas and solutions can be exchanged on common practical problems encountered in the lab, which are seldom reported in the literature.
DIY approaches on micro/nano
PCB circuit-board masters:
Printed Circuit Technology for Fabrication of Plastic-Based Microfluidic Devices File:Sudarsan 2004 pcb masters.pdf
File:Li 2003 Circuit board microfluidics.pdf
File:Gu PNAS-2004.pdf Simple pumping in microchannels using a braille display
File:Grimes diy microfluidics 2007.pdf Simple manufacturing of microfluidic device using Shrinky Dink
DIY Bio DIY Digital Microfluidics for Automating Biology Protocols (sub-microliter droplets)
Homemade microfluidics Earlier project developed in a wetPONG project together with the students from FHNW, Life Science Technologies, LST07
[LabSmith educational µFluidics platform http://www.labsmith.com/microfluidicslabpackage.html]
DIY microscopy and hacked PS3eye on dusjagr labs Easy modification of a Playstation 3 Eye, high-speed camera, optimized for low-lighting and motion detection to be used as a microscope
Commercial products and companies
Paper Based Microfluidics
Paper based Microfluidics Great overview paper on the recent research on paper based microfluidics, comparisons of different techniques.
Simplicity "it's impossible to f**k it up"
Talk by George Whitesides, Pioneer on Bio-Nanotechnology, Self-Assembly, Microfluidics and now also papers and egg-beaters..
http://www.youtube.com/watch?v=-ew0bn8mGAA
Video by the Folch lab
simple showcase of laminar flow in paper
Why toys make good medical devices
Optical Mouse Sensor
Can we detect and measure flow in microchannels with that?
more info on hackteria wiki
Optical Mouse Cam Bidouille.org | Electronics for the people
this post explains how to hack an optical mouse, using an arduino to connect directly to the Avago optical flow sensor, ADNS-2051, File:ADNS2051.pdf. It includes a java program to see the video output of the optical mouse sensor, the program needs a special rxtx library for serial communication: RXTX
Insect-Inspired Optical-Flow Navigation Sensors NASA techbriefs
This NASA paper describes how the optical mouse sensor can be used to measure the optical flow and be used for navigation of flying robots. File:NASA-techbrief optical mouse.pdf
First experiments by dusjagr
Ihr findet einige infos zu meinen kürzlichen experimenten auf meiner website:
Verhalten im Labor
Projekte Fluidik FS11
Projekt 1 | Paper µFluidics Diagnostics
Background
Basierend auf den Arbeiten früherer Studierender, Μ-wetPONG#Projekt_5_.7C_Paper_Microfluidics, bei welchem wir eine Methode entwickelt haben Patterns von Wachs-bedruckten Folien in verschiedene Papiermaterialien zu übertragen.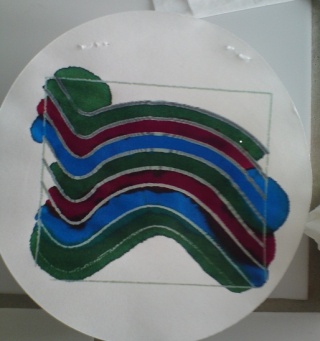 Goal
Aufbauend auf den früheren Ergebnisse soll nun ein Device und Setup entwickelt werden, welches eine einfache Detektion sichtbar macht durch einen Farbumschlag.
Project group pages
P1_FS11_Gruppe_A: Thomas Ost, Marc Grepper, Theresa Senti, Oliver Streng
P1_FS11_Gruppe_B: Nathalie Becker, Julia Prock, Anna-Kathrin Dürig, Daniel Schultheiss
Projekt 2 | Worm Chips II
Background
Dieses Projekt basiert stark auf den Ergebnissen der Studierenden vom FS2010, Μ-wetPONG#Projekt_4_.7C_Worm_Chips. Die ersten Resultate haben gezeigt, dass auch die kleinsten Durchgänge genügen um die Mikroorganismen passieren zu lassen. Ausserdem, haben die Studierenden neue Designs vorgeschlagen, deren Geometrie eine noch stärkere Filterwirkung erzeugen sollte. Folgende Probleme konnten aber noch nicht gelöst werden: Bonding der Devices (sollte mit dem neuen Plasma kein Problem mehr sein), zu starke Flüsse schon beim Auffüllen der Mikroorganismen, da beide Enden offen waren.
Erstes Design: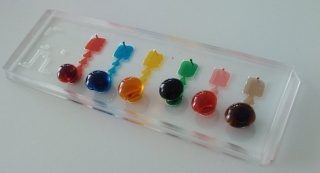 Goal
Die Studierenden sollen ein µFluidikdevice testen, durch welches mit geometrischen Faktoren bewegliche Mikroorganismen (Nematoden, Blepharisma, evt. Tardigrada) akkumuliert werden können in einen Reservoir und somit auch von unbeweglichen Partikeln/Algen getrennt werden. Das Prinzip funktioniert ähnlich wie ein Reuse beim Fischfang, die Mikroorganismen sollten die Engpässe in eine Richtung mit höherer Wahrscheinlichkeit passieren, als in die andere Richtung. Die Studierenden sollen auch eine geeignete Höhe der Kanäle definieren.
Neue Designs:
Project group pages
P2_FS11_Gruppe_A: Corinna Baumgartner, Evelyne Waldmeier, Sandra Lang, Selina-Lisa Jörg
P2_FS11_Gruppe_B: Tobias Thürig, Sebastian Arber, Pascal Nebel, Marco Barberio, Andreas Thomas
P2_FS11_Gruppe_TZ: Queen Zohra, Knecht HPeter, Präsident Hasan
Projekt 3 | FlexPrint/PhotoResist µFluidics
Background
Etlichen gescheiterte Versuche in den vergangenen Semestern, Μ-wetPONG#Projekt_2_.7C_PCB-.C2.B5Fluidics, µFluidische Device Prototypen komplett in Ausbildungslabor herzustellen, basierend auf Abgüssen auf geätzen Kupfer-PCBs. Durch die Rauhigkeit des Substrat Materials konnten keine wasserdichten Devices hergestellt werden. Versuche des Überlacken des PCB-Masters waren nicht erfolgreich, teilweise erfolgreich konnten Devices aber durch Sprühkleber gebonded werden, jedoch schwer reproduzierbar.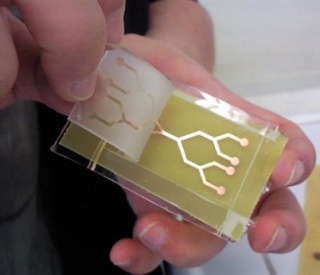 Goal
In diesem Projekt sollen die Studenten neue Materialien testen für die Prototyp herstellung µFluidischer Devices. Zwei Richtungen stehen offen: 1) FlexPrints sind mit Kupfer beschichtete Polyimid Folien (Kapton), DuPont, haben aber noch kein Photoresist drauf. Sprühlack ist vorhanden, Kontakt-Chemie Positiv 20+ Photo Resist Spray 100ml 2) Photoresist Lack direkt auf Glassubstraten strukturieren und als Master benutzen. Die Studierenden sollen ein Protokoll entwickeln für die Herstellung von Devices und deren Strukturhöhe bestimmen.
Datasheet: File:Photolack datasheet 87-0705t.pdf
Material Safety: File:MSDS 87-0705hs.pdf
Project group pages
P3_FS11_Gruppe_A: Simon Bachler, Daniel Xander, Fabian Gass, Patrick Lamprecht, Marco Ribolla
P3_FS11_Gruppe_B: Samuel Rapold, Patrick Kobler, Thomas Soldati, David Christen, Andi Göhrlich
P3_FS11_Gruppe_TZ: Abderrahim Chettata, Michael Wyss
Projekt 4 | Maizena Mania
Background
Erste Versuche mit Maizena ein Nicht-Newton'sches Fluid herzustellen waren erfolgreich und lustig. Ein engültiges stabiles Setup konnte aber nicht entwickelt werden. Die Speaker gingen kaputt, Verstärker waren zu schwach etc..
Maizena 2
Goal
Die Studierenden sollen ein stabiles und bleibendes Setup designen und aufbauen. Ausserdem sollen sie sich noch vertieft mit Viskositätsmessungen auseinandersetzen und auch dazu ein Setup bauen.
Project group pages
P4_FS11_Gruppe_A: John Truong, Franz Hebek, Alexander Zwahlen, Lukas Straumann, Fabian Balsiger
P4_FS11_Gruppe_B: Timo Kaufmann, Gabriel Dürler, Tobias Sepassi, Lamine Diakhoumpa, Mordechai (Mark) Solomon
Projekt 5 | Aschenbrödel Fluidics / Particle Sorting
Background
Dies ist ein neues Projekt, bei dem noch keine Erfahrungen gesammelt wurden. Basierend auf der Arbeit von Yamada et al (PDF) konnte mit einem einfachen geometrischen Effekt eine Mischung aus Partikeln aufgetrennt werden.
Goal
Die Studierenden sollen ein stabiles Setup entwickeln umd die Partikel Separation zu testen, verschiedene Designs testen und/oder neue entwerfen und geeignete Suspensionen auswählen.
Project group pages
P5_FS11_Gruppe_A: Johannes Kim, Michel Heiniger, David Bertschin, David Hilber
P5_FS11_Gruppe_B: Yves Flückiger, Nicolas Gautschi, Christian Gruber (aka Coco), Patrick Pfeifer, Raffael Erb
P5_FS11_Gruppe_TZ: Fabian Meier, Klaus Albert, Marco Peguri
Projekte Fluidik FS10
Projekt 1 | Mouse Flowers
Goal
Design und Test eines Setups um Flussraten zu analysieren mittels einer gehackten optischen Maus
Project group pages
P1_FS10_Gruppe_A: Christoph Suter, Jan Baldischweiler, Simon Obrist, Johannes Linkor, Silvan Berliat
P1_FS10_Gruppe_B: Micheal Müller, Anita Amhof, Marco Gruber, Michel Wüthrich, Thomas Denz
---
Projekt 2 | PCB-µFluidics
Goal
Optimierung des Bondens von PDMS Mikrofluidik-Devices, welche auf geätzten PCBs (Printed Circuit Board) abegegossen wurden.
P2_FS10_Gruppe_A: Fatos Koyuncuer, Dagmar Gmünder, Meral Bozkirac, Oehen Fabian
P2_FS10_Gruppe_B: Sabrina Harsch, Markus Rempfler, Walter Andreas, Balimann Nicolas, Paul Kornel, Christian Geissberger
Projekt 3 | Maizena Mania
Goal
Experimente mit dilatanten und thixotropen Flüssigkeiten. Entwicklung eines Setups für spielerische Experimente und quantitative Messung der Viskosität.
P3_FS10_Gruppe_A: Baris Agbuga, Simon Spörri, Daniel Good, Ivan Sanicola
P3_FS10_Gruppe_B: Caroline Benninger, Michela Schorta, Timo Fromm, Lars Kistler, Christian Walk
P3_FS10_Gruppe_TZ: Ellen Vogt, Pascal Holzmann
P3_FS10_Gruppe_TZ_new: Ellen Vogt, Pascal Holzmann
---
Projekt 4 | Worm Chips
Goal
Herstellung von Mikrofluidik Systemen für die Analysis von Mikroorganismen aus Flüssen und Boden Proben. Test verschiedener Designs für die Trennung von motilen Mikroorganismen. Analyse durch Mikroskopie.
P4_FS10_Gruppe_A: Simon Zimmermann, Marc Amrein, Tobias Müller, Reto Galli, Michael Rutschmann
P4_FS10_Gruppe_B: Fabienne Vannay, David Schlatter, Heinrich Reiser, Philippe Chavanne, Ann-Sabrina Köhler
P4_FS10_Gruppe_TZ: Karen Strub, Thomas Schollbach
---
Projekt 5 | Paper Microfluidics
Goal
Entwickeln eines experimentelles Show-Case Setups für laminaren Fluss in Papier. Test für die Herstellung von Papier-Mikrofluidik Systemen mit Wachs. Test des Übertrags von bedruchten Folien.
P5_FS10_Gruppe_A: Isabelle Schärer, Michaela Scheer, Nicole Bissig, Flavia Braccini, Nadine Morath
P5_FS10_Gruppe_B: Raphael Meier, Paolo Ferrara, Kevin Meier, Michael Szymanski, Marcel Marktanner, Ranjit Kalarickamakel
P5_FS10_Gruppe_TZ: Denise Baumann, Sabrina Giannone, Anita Amstad
---
Eindrücke vom Praktikum...
Shared Images
Um Bilder miteinander zu teilen habe ich eine Flickr-Gruppe wetPONG gemacht.
Projektpräsentationen wetPONG FS2012
Vollzeit - Termin abmachen
Teilzeit - Samstag, 8:40 - 11:20, Raum 221